Post by bubbagumps on Dec 29, 2019 20:04:12 GMT -5
Was milling around Zillow looking at home Prices in the SoCal Area. I had always thought about moving back out to California as some of my family is still out there. But have lived in the Midwest for too long and its so cheap out here. Cost of living too high and home prices are really high.
Anyways while looking at home stats and prices in the greater LA area I was browsing around the map and caught site of Jay Sebring's old house on Easton Drive. For the area, it is well below the average market price. Its not on the market and current owner purchased it in 2014. The reason I came across this by accident was I was looking at homes sorted by ascending price and these were abut the only ones showing below $1.5 Million that weren't trashy. It has a current market value of $1.2 which is very low for this area.
I assume the photos were taken the last time it was on the market in 2014. Looks really old from the outside. It looks kind of run down from the outside. They state, " this home is a wonderful opportunity to either restore to its former glory or develop something entirely new." I.E..It's going to be a cash cow. Wouldn't want it.
Here's a link with Zillow home photos of interior and exterior as of today.
i like how the owner put the grill next to he house and charred the side of the building.
www.zillow.com/homedetails/9820-Easton-Dr-Beverly-Hills-CA-90210/20532727_zpid/
Last went on the market in 2013.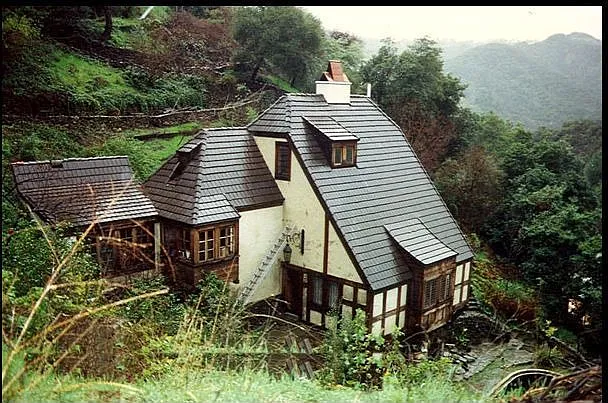 From the 2014 listing:
"Step back in time in this charming country cottage. Formerly the Carriage House and staff quarters for the Jean Harlow Estate, this home is a wonderful opportunity to either restore to its former glory or develop something entirely new. The main house offers 2 bedrooms, a large living/dining/kitchen area, a delightful sun porch and direct access to outside from almost every room. The large, mostly flat lot provides wonderful frontage on Easton as well as parking for 8 cars. The extensive grounds have been lovingly .."
Price history
DATE EVENT PRICE
5/28/2014 Sold $855,000(-2.3%)
4/15/2014 Pending sale $875,000
3/7/2014 Price change $875,000(-2.8%)
12/10/2013 Price change $899,999(-9.5%)
9/30/2013 Listed for sale $995,000
This place would give me the willies living in it. They should also include in the above description, "..this house is steeped in lore. A former occupant died in the house, it's the site of a suicide or possible murder and a former owner was savagely killed by a crazed Manson follower."
This whole area on Benedict Canyon near Cielo looks pretty low-end in terms of price range from the surrounding areas.
That new mansion that replaced the old Polanski house is valued at $35 Million.
There are a few high-priced listings but most are in the $1.5M range though. It's expensive to live in California, especially the LA area. My sister has a small bungalo in the eastern area of LA she and her doctor husband paid about $250K for two decades ago. Its worth about five times that now. But my measly ~$1K home in the Midwest has twice the acreage, square feet, amenities, and things and its newer...
This one would be more my speed if I only had $17M to spare

This is the property at the site of the original twin house.
Like the scenery at 0:56...wonder if it comes with the house